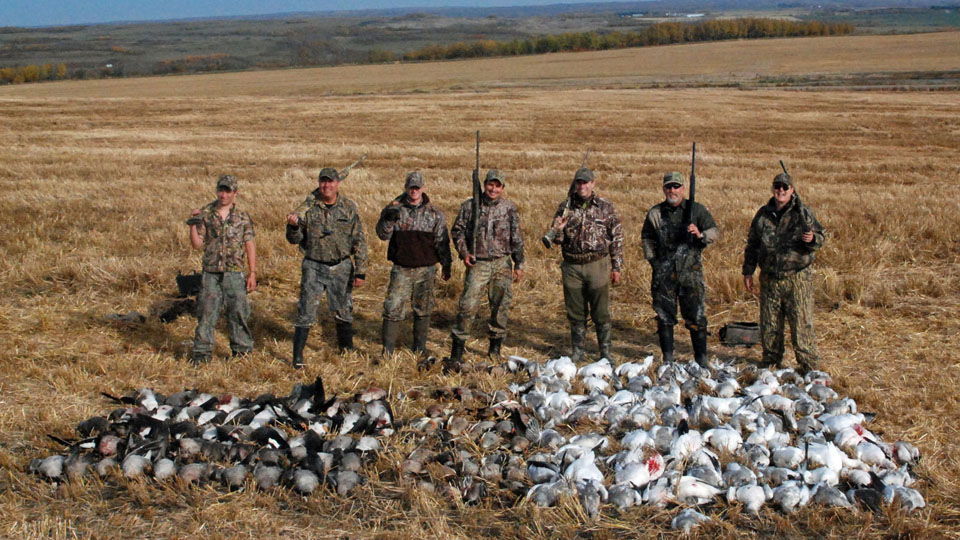 ALBERTA CANADA WATERFOWL HUNTING GUIDES
NORTH STAR OUTFITTING
You will enjoy goose hunts & duck hunts along the North Saskatchewan River in eastern Alberta
We are very fortunate that we have the North Saskatchewan River right next to us that holds the waterfowl until freeze up. Even on a dry year we always have the river to keep us in birds. I have experienced spotters who live in the area and keep in close contact with the land owners. They know where the peas are being planted and where the duck and geese are roosting to make sure that we have the same land access or even more each year.
Our waterfowl hunts are either 3 or 4 day.
We have 6-8 hunters per week at camp, allowing ample shooting and quality shooting for each hunter
Every hunters possession limit is a 3 day bag limit which is 24 geese, 24 ducks and 60+ snow geese.
The birds will be winged and frozen and It's your choice as to how many birds you want to take home. Birds you leave behind will be donated to needy families or locals.
You stay at a private 5 star lodge out in the country as opposed to hotels
We include shells and bird cleaning with one wing on.
GOOSE HUNTING & DUCK HUNTING IN ALBERTA
WE PROVIDE WORLD-CLASS WATERFOWL HUNTS
EXPERIENCE OUR WATERFOWL HUNTS
We hunt geese and ducks in wheat, barley and pea fields. Hunters go out to the fields before sunrise to set up our full bodied decoys and final approach lay down blinds with our guide and spotter to assist. For those who prefer not to set up decoys or pick them up, North Star Outfitting can provide this service at an additional cost.

Just before sunrise we are set up and ready for the birds to come in. During your hunt we will have one experienced guide in the field doing the calling. Our mornings start out targeting geese but we will also shoot some ducks when the opportunity presents itself. In the afternoon we hunt ducks with final approach blinds where we retrieve 100% of the birds.

Waterfowl hunting is the most enjoyable hunt with friends and family and we strive to make it the best hunt possible. I have two dog runs if you wish to bring your hunting dog along. Once we fill our daily limits we pack up and head to the Lodge where I have a shop set up to clean the birds at no extra cost to you.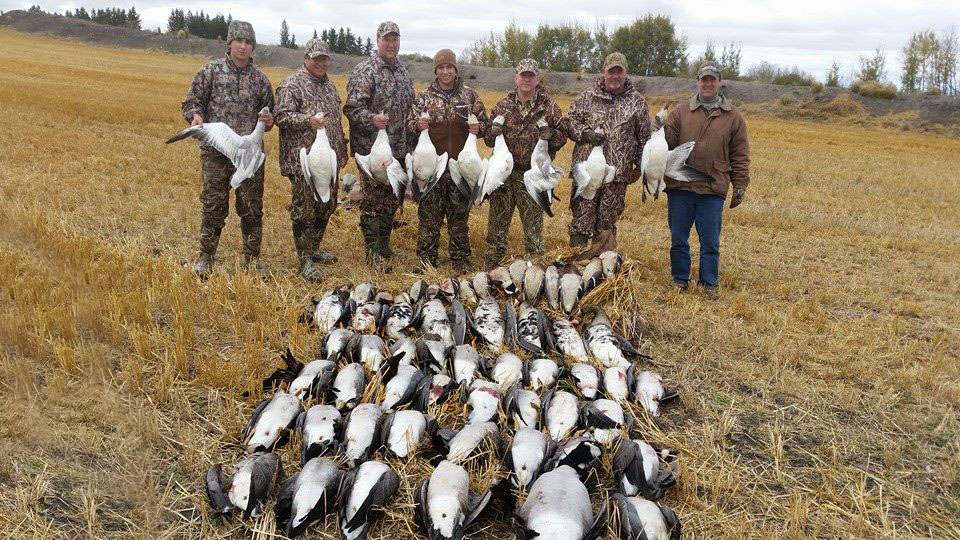 HUNTERS LIMIT OUT EACH DAY ON GEESE AND DUCKS
OUR SUCCESS SPEAKS FOR ITSELF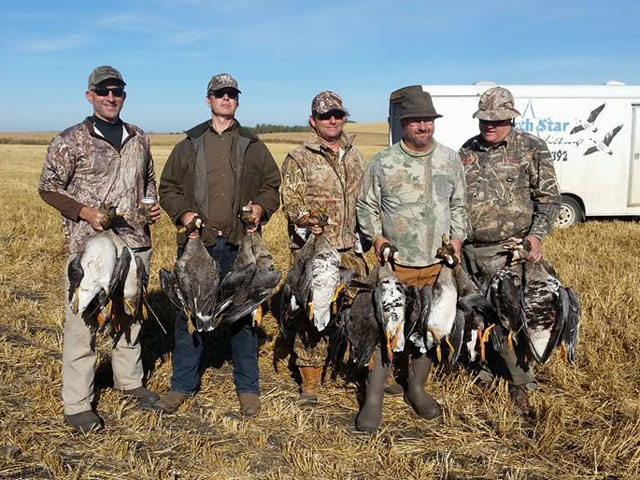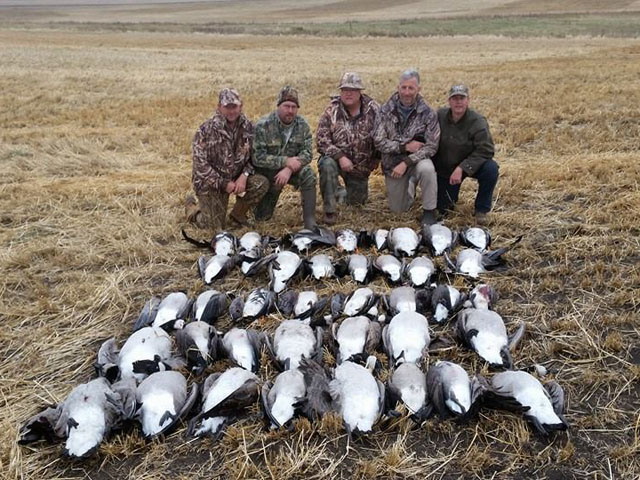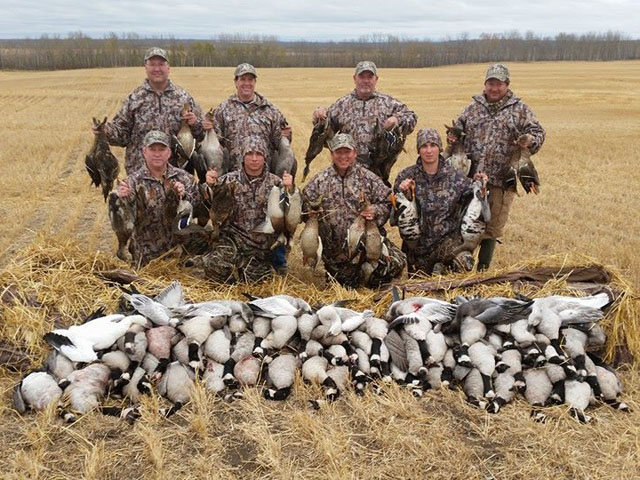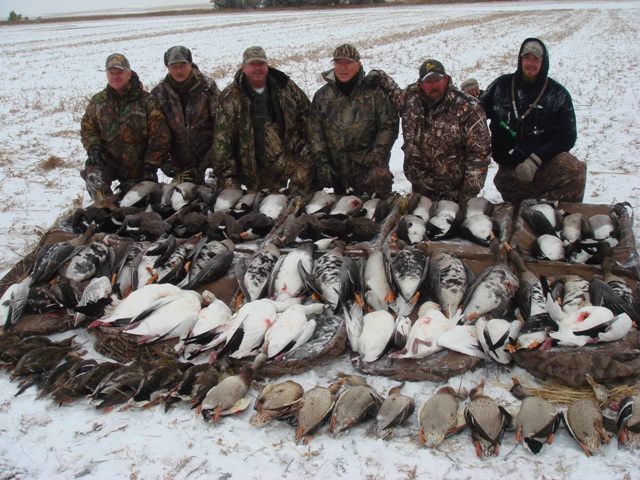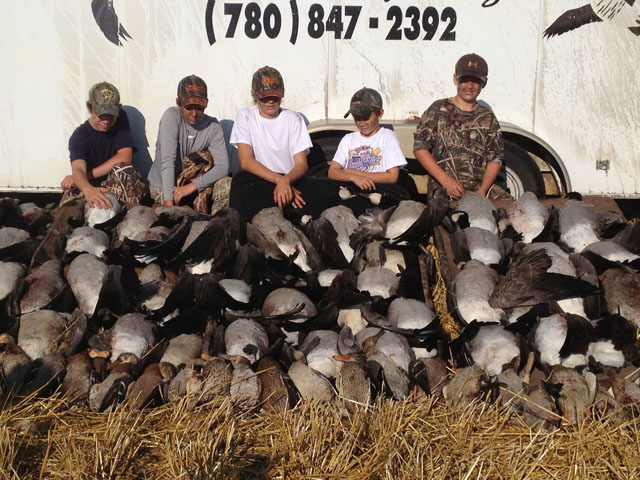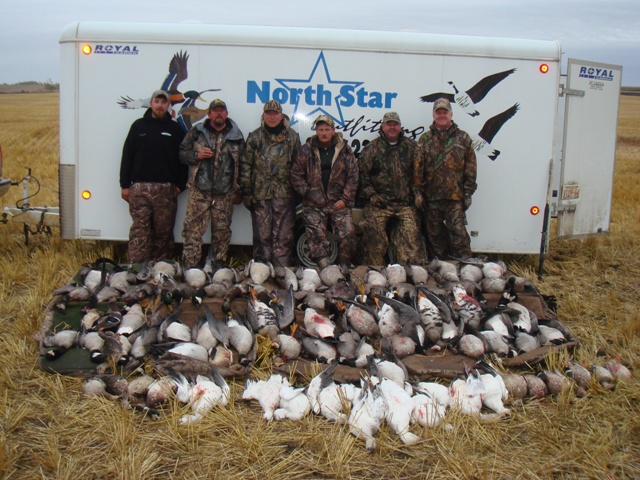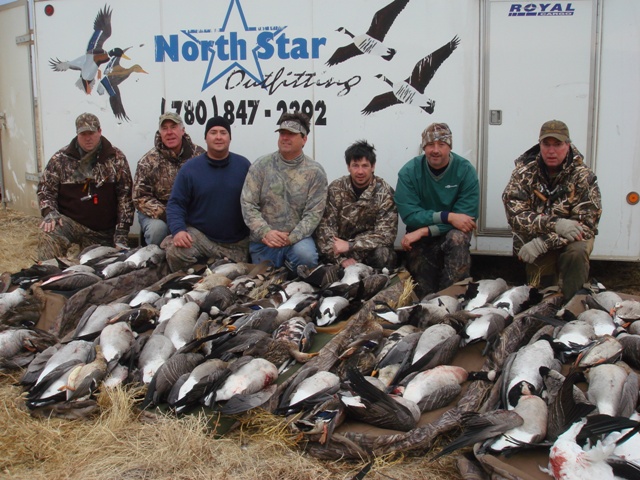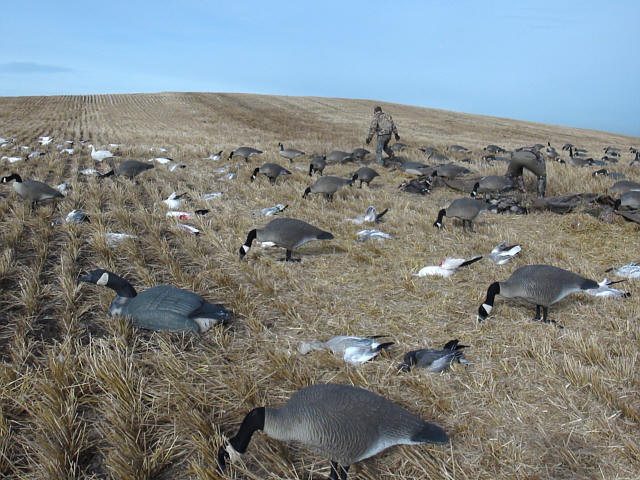 I have been waterfowl hunting with Neil Johnson and crew at North Star Outfitters in Alberta, Canada for the past five years. Our group arrives in late October, usually the last group to hunt. You would think by the end of October all the waterfowl would be gone. Wrong! We saw thousands of Mallards and Canadian geese each day we were there. We limited out each and every time we went out. We owe a great deal of thanks to our great guide, Mike, and our wonderful spotter, Blaine. These two men are on top of their game and was always making sure no matter where we were hunting, it was going to be a great hunt. I have never been disappointed with any of the hunts. After a long day, you come back to the lodge and Kathy, our cook/housekeeper always had a hot meal waiting for us. The food is delicious. I think I gain 10 pounds every year I come. The lodge is always clean and well kept. The people that work at North Star Outfitter go out of their way to make you feel at home and all your needs are met. I have hunted for many years, but never have I found an experience like the one we have each and every time we go. You don't think it can get any better till you go back the next year. If you are looking for a great waterfowl hunt and an experience of a life time, this is the place to call, North Star Outfitters. I guarantee you will not be disappointed.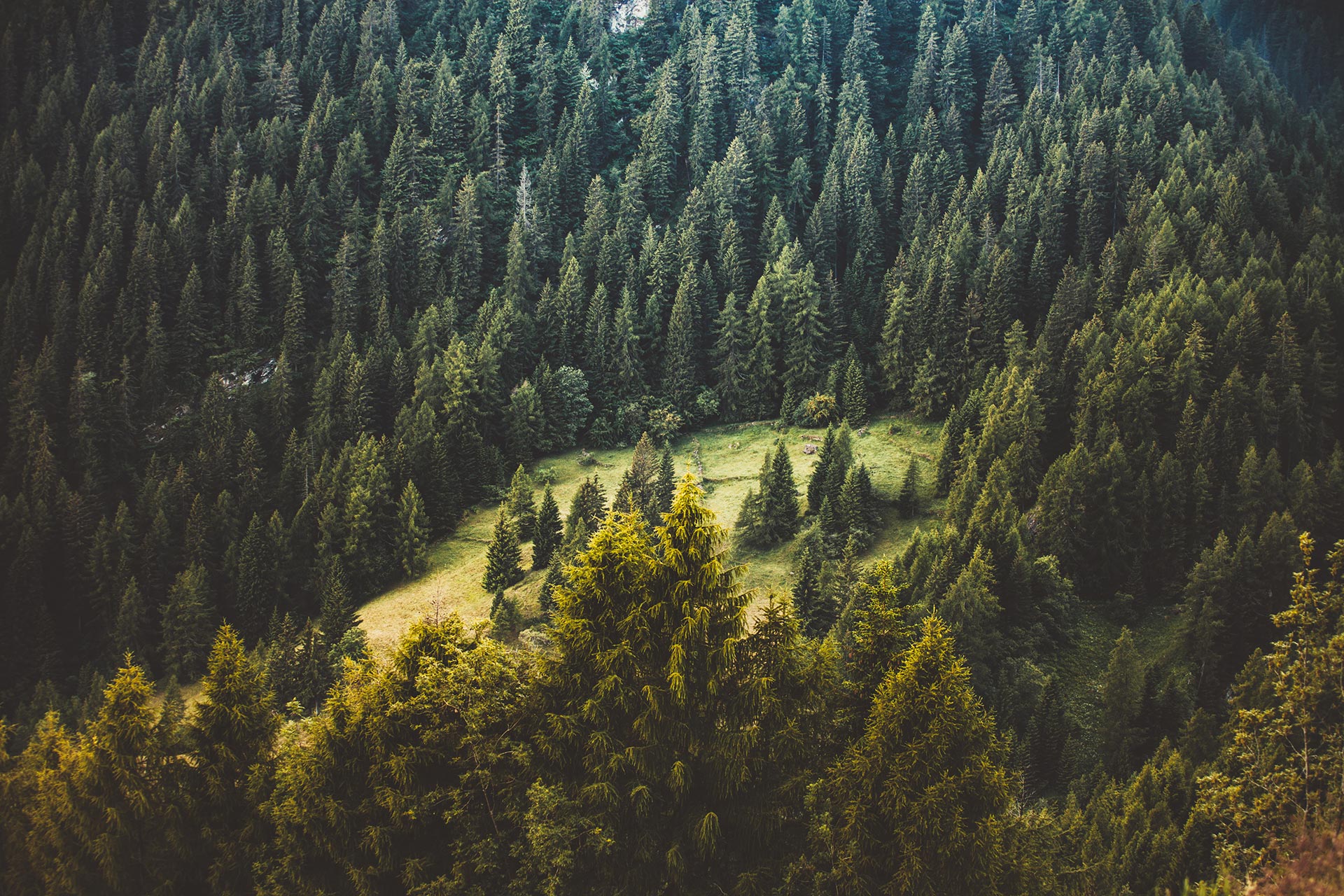 SIGN UP FOR OUR NEWSLETTER
ARE YOU READY TO BOOK A HUNT?
Contact US
North Star Outfitting
Box 501
Marwayne, Alberta Canada T0B 2X0
Complete This Form For Questions or to Book A Hunt